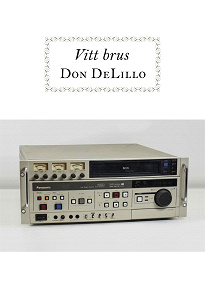 Isbn:
978-91-7499-450-6
Publisher:
Modernista
Category:
Novels
Accessible since:
April 2014
---
Vitt brus
'DeLillos mest underhållande roman hittills. Olycksbådande, briljant, rörande.' THE NEW YORK TIMES

Jack Gladney undervisar i ämnet Adolf Hitler vid ett huma­nistiskt universitet i en amerikansk småstad. Bland studenterna finns New York-bor i exil som vill låta sig utsättas för riktig »amerikansk magi och skräck«. Ingenting går att ta på allvar.
Jack och hans fjärde fru Babette och fyra ultramoderna avkommor tar sig igenom något slags familjeliv till det ändlösa oljudet av märkeskonsumism.
Tills en vacker dag ett dödligt svart kemiskt moln seglar över allas liv, orsakad av en industriolycka. Staden evakueras. Plötsligt går allt att ta på dödligt allvar.

Vitt brus [1985] är mycket på en gång: en såpopera, en kata­strofroman, en universitetsroman, en mordhistoria, en meditation över vår tids dödsskräck, en satir över konsumismen. Den inne­bar Don DeLillos internationella genombrott. I dag betraktas den som en av 1900-talets viktigaste amerikanska romaner.
I översättning av Thomas Preis.

»Enastående roman av en av våra allra skarpsinnigaste författare.«
THE NEW REPUBLIC

»En av de mest intelligent ironiska, bistert roliga rösterna att kommen­tera det samtida Amerika.«
THE NEW YORK TIMES BOOK REVIEW

DON DeLILLO [f. 1936], prosaist och dramatiker, nämns var­je år som en kandidat till Nobelpriset. Två gånger har han till­delats The American Book Award: för Vitt brus 1985 och för Under jord 1998. Vitt brus fanns också med på Time Magazines lista över de hundra bästa engelsksspråkiga romanerna 1923–2005. Som förste amerikan fick Don DeLillo det prestige­fulla Jerusalempriset 1999. Han är bosatt i sin födelsestad New York.
---