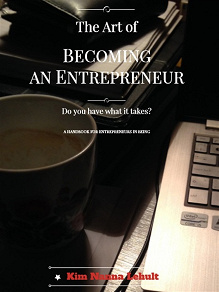 The Art of Becoming an Entrepreneur
What is an entrepreneur and what defines us? What does it take to be one and how do you start?
This is not a self-help-book.  It is a do-it-yourself-and-survive book that will guide you all the way through the process of becoming an entrepreneur.
In each chapter you will find Inspiration, Knowledge and Hands-on exercises.
You start with creating an idea and move through each chapter to get Insights and advice on how to move from the Idea all the way into the Action phase on your journey to become an entrepreneur.
Chapter 1: TO GET AN IDEA AND CREATE A VISION. 
Chapter 2: TO HAVE A STRATEGY MEANS PLANNING.
Chapter 3: IF THERE IS PASSION THERE WILL BE SUCCESS.
Chapter 4: FLEXIBLE THINKING. 
Chapter 5: TAKE RISKS AND SURVIVE.
Chapter 6: THE POWER OF NETWORKING.
Chapter 7: ACTION!
---