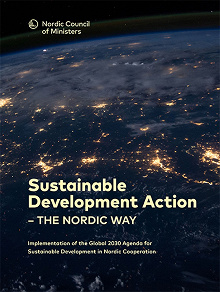 Isbn:
978-92-8934-957-4
Publisher:
Nordiska ministerrådet
Category:
Society & Culture
Accessible since:
May 2017
---
Sustainable Development Action – the Nordic Way
The 2030 Agenda, adopted by the UN General Assembly in September 2015, outlines an ambitious and universal plan of action for people, planet and prosperity as it seeks to strengthen universal peace and freedom. This report presents national and Nordic action on Agenda 2030 with the aim to inform and support the Nordic Council of Ministers in formulating a new Nordic Sustainable Development Programme. All Nordic countries are engaged and strongly committed to implementing Agenda 2030 and there is a broad societal interest in joint Nordic action. The existing Nordic Strategy for Sustainable Development and several other key initiatives within Nordic cooperation already contribute to the goals of Agenda 2030. A new Nordic Sustainable Development Programme can build upon a strong foundation and add further value to the national and international work done by the Nordic countries.
---