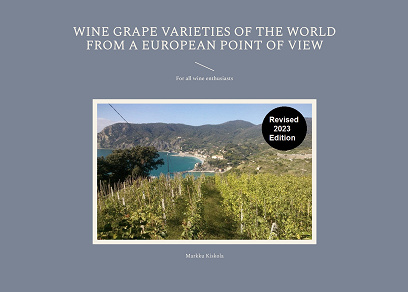 Isbn:
978-95-2800-054-9
Publisher:
Books on Demand
Category:
Cooking, food and drink
Accessible since:
February 2023
---
Wine Grape Varieties of the World from a European Point of View
Do you often think what would be the best wine? Or how to find your own favourite wine. Would you like it easier to talk about wines and wine grapes? Because of the abundance of wines, it's much easier to get to know them starting with the different types of grapes. To this end, Wine Grape Varieties of the World from a European Point of View offers good support by listing about 930 varieties, many with several synonyms. Almost every variety now has a brief description of the aroma. The book first lists the ten most favoured grape varieties, and after this the varieties are listed by countries and by wine regions. 58 countries are included. Finally, you can find maps of wine regions, a description of the most common varieties, and an alphabetical index of the wine grape varieties including a large number of synonyms. This reference book is the same size as the screen of a tablet, handy for viewing at your home as well as packing it in your bag or suitcase as a guide to local wines. It is also available as an eBook for all platforms. This makes it easy to search all the grape varieties for instance of a particular wine region or a particular country. The book can be previewed before a possible decision to buy it e.g. by clicking the following find your favourite wine link. https://sites.google.com/view/find-your-favourite-wine/ The link also gives you useful guidance, if you decide to buy it. If the link is not active, you can paint it. Then, click the right mouse button and choose Move to the address. Or, you can paint the link and copy and paste it to the address field of your browser.
---